Millions of people die every year from a disease that is 100% treatable and curable. Over 95% of those people live in poor countries.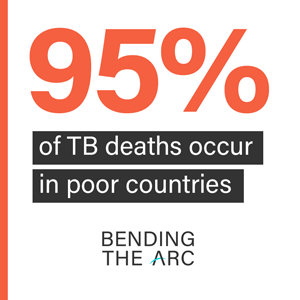 After five years working in Haiti, Dr. Farmer found that patients were still dying of tuberculosis. "Why did they die?" he asked. "We have free medications, free lab work, everything free and they still die."
At that time, many in the public health establishment blamed patients for poor outcomes. But there were other factors at play — lack of clean water, no food, distance to the clinic.
So Dr. Farmer and PIH trained a team of community health workers to go out and visit patients, offer encouragement, and help them address the circumstantial factors impeding their ability to recover.
"When we took the blame off the patients and put it on the system, everybody got better."
Think about that: if we refuse to blame the victim, and start to look at the system of health delivery and care, people get healthy.
With that in mind, Dr. Farmer and PIH reached almost 100% cure rates. This was an unheard-of statistic, made even more impressive in a poor country like Haiti. It was a remarkably simple concept, with groundbreaking results.
This reorientation toward community support turned the tide in PIH's approach to treatment, and their proven success opened their work up to the world.
No one should die from a curable disease. It happens because marginalized communities are denied a voice and the global health establishment continues to blame victims and deliver care divorced from the reality on the ground.